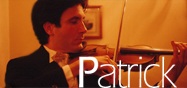 Johann Sebastian BACH
» Partita N°2 in D minor, BWV 1004
Béla BARTOK
» Sonata for violin alone
06.
Tempo di ciaconna (9:09)
Niccolò PAGANINI
» Nel cor piu non mi sento
10.
Introduction, theme and variations (10:00)
On this recording, Patrick Shemla plays a Niccola Gagliano Circa 1740 ; the instrument was kindly lent by violin expert Mr Etienne Vatelot..
Recorded at:
Paris, Eglise Réformée de l'Annonciation 07/2002
Engineered by:
Michel BLANVILLAIN
Photo:
Michel MONTEAUX
(P) SEPM QUANTUM 2001 QM 7023 - DDD
••• EURÀVENT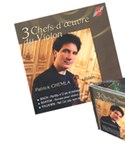 Partita N°2 in D minor for violin alone, BWV 1004
by J.S. Bach.
In the year 1720 J.S. Bach was living at the court of Prince Leopold of Anhalt-Cothen. He composed his three sonatas and three partitas for solo violin. One can't help quiver when we know that Bach's handwritten original score was eventually found among old papers destined to wrap butter in a St Petersburg milk shop...

The music starts with a very fluent Allemanda without double-stoppings. This Allemanda in a very pure style expands majestically, and its fluid character reinforces its radient nobility


The Sarabanda is moving and plaintive. Eventhough it was written following the traditional model, we cannot help noticing that Bach ends the Sarabanda with a four measures Coda, in a peaceful atmosphere, yet plaintive and moving all the way.

The Giga, written with a lot of spirit is based on the original 12/8 giga-dance rythm. It will lead us with such excitement towards the last movement.

The Chaconne, final movement of this magnificent work is built on a D minor theme. Comes series of virtuosic variations that leads us to a D Major second part where variations are luminous with subtle harmonic touches and melodic richness. The D Major part, then naturally and smoothly, brings us back to D minor last grandiose variations towards the original theme, in a final apotheosis.
Sonata for Violin Alone by Béla Bartok.
Béla Bartok arrives in New-York city in 1940 fleeing the war in Europe with little baggage, and already sick with leukemia which would take him away five years later. He composed this sonata for solo violin at the request of Yehudi Menuhin.

The Sonata starts with a Tempo di Ciaccona, Bartok introduces in the initial polyphonic theme the so characteristical rythm of the chaconne. The second theme coloured with hungarian folk music comes in, allowing these two themes to compete in the way of variations.
Fuga : this is a four voices fuga, a "tour de force" worthy of the great fugas of Bach's sonatas for violin alone. The many returns of the Fuga theme are, each time, enriched by varied, inventive taste and creativity.
Melodia : This is a beautiful chant immersed in unfathomable sadness, deeply tinted with colours, atmospheres of the native land so dear to Bartok. Phrases ends in harmonics, suspended in mid-air, would the Pan flute caress be found there ? The mute adds to such heartbreaking nostalgia, making this movement bathe in a quite untangible climate.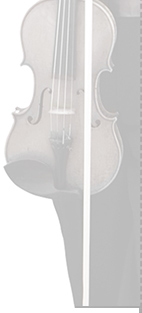 Presto : Pianissimo with mute, we enter a mysterious world, uneasy dream with a perpetual motion. It will alternate with the traditional hungarian music elements of the second part, dancing themes, abrupt rythms, where syncopation reigns. A breathtaking final, it ends with a last "piano" motive prior to taking off in a last draw of fireworks.

"Nel Cor più non mi Sento" by Niccolò Paganini.
In the course of a concert, Paganini used a theme from the Opera "La Molinara" by Giovanni Paisiello. Paganini did not think much about posterity of his works. He would often base his improvisations on fashionable opera themes. We owe this work to a Paganini admirer, a composer himself, who, while attending the concert , transcribed it live on paper. Paganini's improvisation was true inspiration and an amazing performance in itself. The work is in G Major. It starts with an original introduction, the theme itself is treated with an "accompaniment" all in pizzicati. It is after four variations in G Major that we switch to G minor for the 5th variation, a slow and sweet one. We are now floating in a tender melancholy, so typical to the italian Bel Canto. The 6th and last variation, back in G Major, uses a "ricoché" bow stroke throughout its course. The work ends with a last pizzicati explosion in the coda. This piece radiates with a jubilatory thrust bringing it to a flamboyant ending. When it comes to virtuosity, this is indeed a work of fire.


Other album:
W.A. MOZART
Concerto for violin and orchestra N°3, KV216, N°5, KV219
• Official
Patrick Chemla
website • © 2002, Patrick Chemla • All rights reserved •